Sunday, September 30, 2007
Shopping List Compendium on CBBC
posted at 11:53



Sunday, October 01, 2006

The eBay Experiment

Huds601, a chap on a forum I can sometimes be found on, has decided on a Christmassy shopping challenge, and I thought people who visited the Compendium would be interested.

From his site:


I plan on buying EVERYTHING I need for christmas on eBay. That includes sticky
tape, wrapping paper, cards, ribbon, and all gifts of any proportion. The idea
is to add things up and see whether or not it is worth trying your luck and
doing your Christmas shopping from your own home on eBay.
Check out his site, and let him know how you came to find him :)
http://theebayexperiment.blogspot.com/
posted at 20:35

Saturday, August 05, 2006
The Times Educational Supplement

I'm a teacher. I don't think I've ever explicitly stated it on the site (indeed, why would I have need to), but this fact makes me eligible for an appearance in the Times Educational Supplement: the kind of newspaper you could face the sack for if you don't at least give a passing glance to. Which is ironic, really, as all the jobs are featured in it.

So, it's a pretty important newspaper - and they featured the Compendium in it as part of their Work/Life Balance section. Ultimately it's there to say "look, teachers do other things outside the classroom" but as well as profiling the Compendium's quirks, David Mattin's excellent article also demonstrated the educational benefit to be gained from reading others' lists. posted at 23:43

Thursday, August 03, 2006
278 - Route Planner

I've often said how I would like to visit some of the shoppers whose lists I have in the Compendium. Sometimes I find their addresses on old envelopes, sometimes on business letterheads. But never before have I been given a map!

Yep, check it out: this is a map from SM1 2TR (St James Road, Sutton) to SW13 9JT, which according to www.streetmap.co.uk is St Paul's School in Hammersmith.

Now, this is interesting because a colleague has just got a new job teaching there...but it's unlikely that she was shopping at New Malden Tesco for a few random bits and bobs (presumably to make chilli con carne) which is where this list was found.

Still, at least if I ever want to visit her new place I know how to get there. If I'm starting from Sutton, that is. posted at 12:35

Wednesday, August 02, 2006
277 - Fishy Father, Filthy Matricide

You don't find people referred to as "father" and "mother" very much these days. You find "father" and "mother" referred to even less on shopping lists, but that's not to say it never happens - as this list shows.

Something fishy is definitely going on here. The shopper is clearly the offspring of the "father" and "mother" mentioned here, but is buying quite shockingly different things for each of their parents.

"Fish dish for father" is fair enough. Dads like fish. But, "bleach etc washing liquid (mother)" is a bit scary. Could this be a very dirty mother who needs a bloody good clean, or is it the shopper's attempt to kill off the mother for the inheritance? After all, father gets food while mother gets bleach.

The shopper has planned this murder well (and it wouldn't be the first time a murder has been solved through the evidence of a shopping list). In addition to the bleach to poison mother, they have also got "Tissues", "loo paper" and "loo wipes" to ensure all mess is quickly and effectively cleared up along with the "Floor mop liquid". Once that's done, the "Dove hand wash" will rid the final remnants of any evidence down the drain. "White wine" to celebrate the dastardly deed, perhaps? posted at 11:46



Saturday, July 22, 2006

Sporadic update

Greeting listophilists!

My apologies for lack of updates recently...I've got a pile of lists waiting to be added, but not enough time to add them. However, work's summer break begins soon and so I'll hopefully have time to update the site then.

I'll also be adding the rather good article from the Times Educational Supplement that was featured last week in their "worklife balance" section.

In the meantime, why don't you mosy on down to the website of Chris Moulin from the Memory Group at the University of Leeds' Institute of Psychological Sciences? He's currently conducting some research into memory associated with shopping lists that he'll be presenting at the International Conference on Memory in Sydney. posted at 10:49

Thursday, June 08, 2006
276 - This is a List

This is a list. Oh yes it is. And it's not just any old list, it's a THISISAKNIFE list.

I've just got back from Tesco with the nice chaps from Channel 4's weekly videocast, thisisaknife who featured the Compendium in January. Donal, Tim and I wandered around the trolleys searching out more lists while they recorded a nice little interview for this week's show.

This was the first list we found, and I promised to upload it to the web in case any thisisaknife viewers wanted to see the goodness :)

As for the list, there's a couple of things that stand out. One of them is the fact that "Bread" is written - not only in black pen rather than a pencil - but aso in different handwriting. The second exciting thing is that this is a shopper who either wishes to buy a straight caddy for tea, or maybe already has the caddy but wants some tea leaves for it. How very confusing! You can tell it's summer though - lots of "Salad" and things, although quite why "cucumber" needs to be listed separately is slightly inconsistent. posted at 07:16

Monday, April 10, 2006
275 - Musical Fangs

Yet again, my deciphering skills have left a little to be desired. While I can make out the majority of this list, the odd word escapes me. Or, in the case of the seemingly "Musical Fangs", both words.

Most websites I've found on this topic refer to people sinking their "musical fangs" into stageshows, most of which seem kitschly camp like Rocky Horror.

But I don't think Tesco would take too kindly to me shopping in a basque and fishnets. posted at 22:16

Sunday, April 09, 2006
274 - Thai Chicken Headache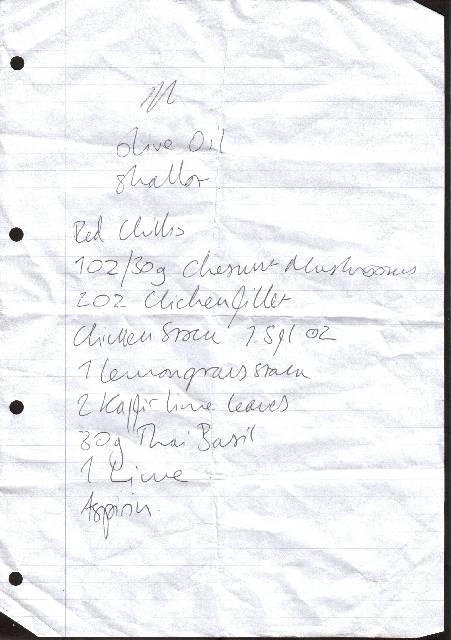 The BBC broadcast a cookery program called Ready, Steady, Cook. Anthony Worrall-Thompson crops up on it on occasion (not to be confused with Dr Anthony Worrall at the University of Reading), along with an assortment of other "celebrity chefs" who take it in turns to make a meal out of a bunch of supposedly-random ingredients.

This shopper clearly watches it, as the recipe listed on this A4 sheet is a perfect recreation of Brian Turner's Thai Chicken Soup. In fact, you can even see the frantic scribbling on this list, as the shopper copied down the ingredients during the program.

And "Aspirin" too.

It must be stressful making soup. posted at 11:33

Friday, April 07, 2006
273 - Cripple Sauce
What an unfortunate time for a ballpoint pen to stop working! Just as you round off the eastern reaches of an A you hit an air pocket. And bumph. Instead of buying "Apple Sauce" you get funny looks as you wander the aisles trying to buy Cripple Sauce.

What would cripple sauce be? Part of me thinks it's some kind of super-hot chilli sauce like Dave's Insanity Sauce, or my personal favourite - Dragonfart's Wet N Reddy BBQ sauce.

That stuff could strip wallpaper.

I love it. posted at 23:13

This site is made possible by the kind people who abandon their shopping list at the end of a trip to the supermarket. I collect those shopping lists. You might refer to these as grocery lists, which strikes me as a bit strange because not all the items on the lists are groceries. Anyhow, I won't worry myself about it if you won't.

For those of you who have asked why I do this, please just be content with the fact that I do. I saw a list lying abandoned in a trolley once, and thought, "I'll have that". So I did.

Each shopping list I find is added to my collection along with comments about each list, which usually consist of me spouting on about the possible personality of the person who wrote it. I'm quite harsh at times, at others I feel a pang of compassion. Sometimes I just don't know what items are. Hopefully it will aid your procrastination.

Monthly Shopping List Archives Previous Lists